Want to test your knowledge of Athabasca?
Want to have some fun with friends and family? Download our Athabasca Scavenger Hunt here!
Athabasca Scavenger Hunt (right-click, then click "save as"). Take an hour and see how many you can do. Or take a day and do 'em all!
WARNING: the next file contains the answers! Don't cheat! 🙂
Athabasca Scavenger Hunt (Answers)
Below are some pictures of when our church did it.
"Guys! I'm telling you, it's over there…"
Can you believe this tractor was powered by steam?
Found it!
Ah, the Grand Union Hotel… What a history!
Athabasca's first bank looked like that? Who knew?
No, they are not always this serious, trust me!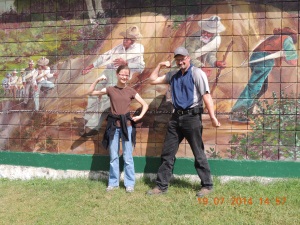 Pulling those boats would take some _______!
As you can see, we had a lot of fun!
Northlight Baptist Church began September 2, 2012 out of a desire for strong biblical teaching and church ministry. We exist "to display God's truth to the world, to make true disciples of Jesus Christ, and to disciple others to build up and cause the growth of His church." We meet Sundays at 10:30am and Wednesday at 7pm in Athabasca, near the Athabasca county office building. Click here for more about us
Comments
comments