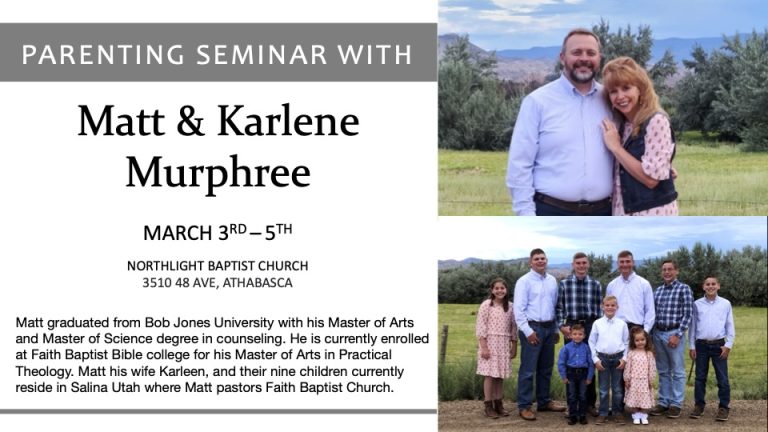 WELCOME TO NORTHLIGHT BAPTIST CHURCH:
Now more than ever, people today need the whole Bible preached and taught. That's why we endeavour each Sunday and every day of our lives to proclaim God's truth to the world and live Christ-honouring lives.
We're passionate about Jesus' Great Commission to the church, to make and disciple members of His body. We're excited to come alongside side each other in this.
We'd love the opportunity to get to know you and strengthen your walk with God
JOIN US FOR WORSHIP:
Sunday Morning Prayer Meeting: 9:30am
Sunday Morning Service: 10:30am
Wednesday Night Bible Study/Prayer Meeting: 7:00pm
UPCOMING EVENTS:
Parenting Seminar – All are welcome to attend:
– Friday March 3 @ 7:00pm at Northlight Baptist Church – (Coffee & sweets to follow)
– Saturday March 4 @ 10:30am at Northlight Baptist Church – (Followed by Lunch)
– Saturday March 4 @ 2:00pm at Northlight Baptist Church
– Sunday morning service @ 10:30am Matt will present his ministry in Utah and bring the morning message. (Potluck to follow the morning service.)
– Sunday March 5 Following Potluck at Northlight Baptist Church
We'd love to hear from you! Let us know if you have any questions, or would like to know more about Northlight Baptist Church.
Phone: 780-675-9810
Email: info@northlightbaptist.ca